Brian Mooers, MD
Bariatric Surgeon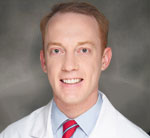 Dr. Mooers grew up in Salt Lake City, Utah. He attended Highland Highschool and was active in community service, athletics, and academics. He moved to Washington State to pursue his undergraduate degree at Whitman College where he completed research in bacteriophage and E. coli immunology. Prior to medical school, Dr. Mooers worked as a pharmacy technician and phlebotomist at Maliheh Free Clinic in Salt Lake City, Utah.
Dr. Mooers attended medical school and completed general surgery residency at the University of Iowa in Iowa City, Iowa. During medical school he was inducted into the Gold Humanism Honor society for excellence in clinical care and as Chief Resident was awarded resident teacher of year by the medical school. Dr. Mooers developed an interest in Bariatric Surgery due to the efficacy of interventions, which cure type two diabetes, ameliorate cardiovascular disease associated with obesity, and prolong and improve the quality of patients' lives. While at the University of Iowa, Dr. Mooers trained under colleagues of Dr. Mason, who is considered the grandfather of modern bariatric surgery.
After residency, Dr. Mooers completed a fellowship specializing in high volume bariatric and metabolic surgery including revisions, conversions, and emergency procedures. His mentors were Drs John Zografakis and Adrian Dan at Summa Health System - Akron City Hospital in Akron, OH. Dr. Mooers was honored by the ASMBS and SAGES with triple certification in Advanced Gastrointestinal Minimally Invasive Surgery, Foregut Surgery, and Bariatric Surgery. He has also completed additional training in advanced therapeutic endoscopy and with Intuitive's robotic assisted surgery platform, Da Vinci.
In his free time, Dr. Mooers enjoys spending time outside with his wife, young daughter, and two dogs. His favorite activities include rock climbing, mountain biking, skiing, and hiking.